Spaghetteria La Loggia
The oldest tavern in Altopascio, and one of the oldest of the entire region, is now a genuine Spaghetteria, in which the main essence is the tradition in the cooking of pasta. You can also find great antipasto dishes and the famous "Specialità" like the "Zuppa di Ceci", the "Farinata" or the "Zuppa di Farro", always cooked according to the faithful Tuscan tradition. Not only will you find a large variety of Spaghetti dishes, all cooked at the moment by Antonella, our precious cook, who knows our authentic secret recepes by heart. Antonella also makes all the desserts herself (you should definitely try her apple pie). The restaurant, that still preserves the charm of the old tavern, is cozy and intimate inside (it only has 7 tables), but during the warmer seasons, you can have lunch or dinner under the beautiful Medici Loggia (historic archways), or, as an alternative, you can eat on the back of Piazza Garibaldi. Altopascio is perfectly located among the Versilia with its beautiful wide beaches, the turistic center of Florence, Lucca, Pisa and Pistoia. Altopascio is famous in the world for its bread and has been known for more than a thousand years by the pilgrims that have walked through the Via Francigena as a place to rest and relax before continuing their journey.
From Florence simply follow the Highway A11 towards Pisa, take the exit for Altopascio and follow signs for the historical center. We are located in the old, little Piazza next the Tower… under the Medici Loggia.
.
THE MENU OF THE LOGGIA
ANTIPASTO DISHES
Antipasti La Loggia
Zucchine – Melanzane – Peperoni Grigliati
Affettati Misti
Insalata Russa
Farro in Insalata
Pecorino di Pienza Olio e Pepe
Fagioli Cannellini con Olio e Pepe
Fagioli Borlotti con Cipolle
Wusterl in Agrodolce
FIRST DISHES
Spaghetti
Arrabbiata
Ragù Toscano
Ragù di Cinghiale
Pomodoro e Basilico
Pirata
Granchio
Aragostella
Salmone
Scoglio
Radicchio
Boscaiola
Zucchini e Salmone
Primavera
Pesto alla Genovese
Aglio Olio e peperoncino
DESSERTS
Torta di Mele
Crostata di Marmellata
Macedonia di Frutta Fresca
Crema Catalana
Cantucci e Vin Santo
ANTONELLA'S SECRET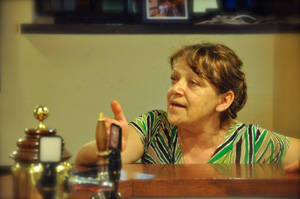 "We started this business almost 30 years ago, knowing that we would bring a new dining experience to our future clients…"
"I have to say that the choice between Bar or Spaghetteria hasn't been that hard… it stayed as "Bar Spaghetteria"… and we spread our name like this…
Our secrets are: the food must always be fresh, and old recipes never thrown away…
We took any advice offered to us from our customers to learn and improve, so that we could make you feel like you are at home.
1
TORTA DI MELE (Apple Pie)
"People always ask me the recipe for the Torta di Mele, which I've always kept as a closely guarded secret… But here it is for you: flour, milk, eggs, sugar, butter and yeast… and many many apples… Maybe it's not going to be my pie, but if you will try just like I did, it will be your pie without any doubt!!!
2
SPAGHETTI ALLA PIRATA (The Pirate's Spaghetti)
How to cook Spaghetti alla Pirata: sauté in a frying pan oil, garlic, red pepper, Tuscan olives and well washed capers. Once everything is sautéd, add some tomato, oregano and parsley. Add to the pan spaghetti previously boiled and finish cooking everything together. Simple, genuine and good!
Oh yes, I forgot, you also need some bread at the end to scoop the sauce remaining in the dish; that never hurts!
A special thanks to Marisa, the woman that made all of this possible…