Room TAU
The Tau Room is above the splendid Medici Loggia from the XVth century. It takes its name from the old order of friar knights from the old Saint Jacopo Maggiore's Hospital. It will offer you the possibility to live in the past and feel a very unique emotion.
The room has been recently completely renovated, keeping the essential style together with the technological comforts like a wifi connection from your comfortable bed. In the bedroom you will find a double bed, two nightstands, a clothing stand and a little table with a stool. The bedroom has a TV. The light green color on the walls is fresh for the day and relaxing at night; perfect for all of those that love traveling and being immersed in the heart of a medieval village.
The private bathroom is immediately out of the room.
MIN = €60,00 per person per night
MIN = €120,00 per double bedroom for two people per night
MIN = €300,00 MAX = €600,00 per week
Breakfast is included in the price and turistic information is available. Possibility to get half board or full board upon request.
Discounts available for periods longer than 1 week. The bathroom linen is changed daily.
Telephone number: +39 339 3382116
E-mail: info@bblaloggia.it
HISTORICAL NOTES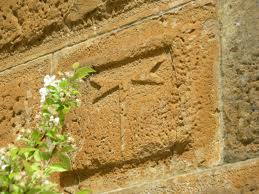 The Tau, symbol of the Hospital of Saint Jacopo's Order which was born during the second half of the XIth century along the Via Francigena with the aim of giving assistance to the many pilgrims that traveled towards Rome. During three centuries, the Tau Knights, named for the way they used to keep their sword on their Tau adorned cloak to protect the pilgrims during their pilgrimage, welcomed all the people that showed up at the Magione of Altopascio and in the other "obeientie" spread all around Europe, hosting them in the common canteen, where they would welcome the poor and the rich with no difference, and giving help in the avant-guarde medical care hospital created for that puropse.