Bed and Breakfast La Loggia
The common room connected to the three bedrooms, is small and cosy. It's perfect to consult a guide, program the day's schedule, or simply enjoying some good wine. The common room is about one thousand years old. The entire building was called "xenodochio", which was the old hospital of Altopascio.
Telephone number: +39 339 3382116
E-mail: info@bblaloggia.it
HISTORICAL NOTES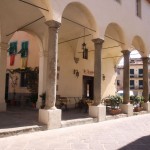 About one thousand years ago, after many wars and famines stripped this area, the countryside became even more wild, and Altopascio was surrounded by thick dangerous woods with many paths that caused some travelers to get lost. They were forced to sleep in the woods and it often happened that they ended up killed by some animals or robbed from thieves.
During those centuries, people would take long pilgrimages to expiate their sins. In the XIth century, twelve people decided to create a hospital in Altopascio, dedicating it to the apostles Saint Jacopo and Saint Egidio, to protect and assist the pilgrims that ended up there.
These twelve individuals also made a bell called Smarrita, which they would ring each evening half hour before night for a solid hour, so that people in the forest would find a safe place and would know that there was a Hospital for them.