Room SMARRITA
Up a flight of old steps in Serena stone through an original door in early 1900's Tuscan style, you enter the small suite of the building. A small comfortable bedroom with a French style bed, private en-suite bathroom, an original wardrobe to hang your own clothes. You will walk on an old, but entirely renewed terracotta floor with the many shades of red. The wall's color is light hazelnut brown with the white "old frill" to make the small but cozy room look higher. An original headboard obtained from two old wooden blinds will catch your attention, a bench as a nightstand, a table lamp and a precious handmade Tuscan glass chandelier. All of this in the simplicity of the Franciscan atmosphere. The bathroom, with light blue painted walls, is in the bedroom, and is wide, comfortable and entirely remodeled. On the staircase you can use a small library held in a small niche made of cypress wood.
MIN = €70,00 per Room occupancy
MIN = €100,00 per night double occupancy
MIN = €300,00 MAX = €450,00 per week
Breakfast is included in the price and turistic information is available. Possibility to get half board or full board upon request.
Discounts available for periods longer than 1 week. The bathroom linen is changed daily.
Telephone number: +39 339 3382116
E-mail: info@bblaloggia.it
HISTORICAL NOTES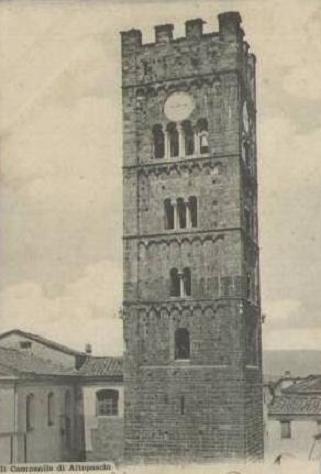 Altopascio was once surrounded by large swamps, like the big lakes of Bientina and Fucecchio, whose remains are the Lake Sibolla. What wasn't occupied by water, was covered by forest like the one of the Cerbaie which was filled with bandits. These lands could become very dangerous for the traveler that got lost, especially if the night was dark and stormy. The legend says a young girl that was wandering alone in the swampy area got lost and never came back home. Since then, every night the bell would sing to call the missing girl, and for this reason the bell was called "la Smarrita". Actually, the Smarrita kept ringing for centuries for an hour every night in the beautiful Romanesque tower to orient the pilgrims, and its call could be heard for kilometers. This, together with the fire lit upon the balcony, was an important reference for those who got lost and tried to