Room PISTACCHIA
A small access room… a peak into one thousand years ago… the door… and you will enter the room "Pistacchia"… the faded pink color will make you feel welcome you in the biggest bedroom of the B&B. The new and spacious en-suite bathroom is equipped with every comfort. In the bedroom you will find: a comfortable double bed, two nightstands in early 1900's style with dark marble, a chest, a table with a Tuscan stool from the 1800's (branded from the craftsman himself) and an original clothes rack with its old hangers. The bedroom looks onto the splendid Piazza Ricasoli, where until a few years ago there was the weekly market. Looking through the old blown glass window (the ones from 100 years ago with bubbles), you will be able to see reality with "new" eyes.
MIN = €60,00 per person per night
MIN = €200,00 per double bedroom for two people per night
MIN = €300,00 MAX = €600,00 a per week
Breakfast is included in the price and turistic information is available. Possibility to get half board or full board upon request.
Discounts available for periods longer than 1 week. The bathroom linen is changed daily.
Telephone number: +39 339 3382116
E-mail: info@bblaloggia.it
HISTORICAL NOTES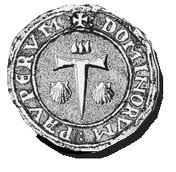 The assistance to the pilgrims was, according to their wealth, diversified. The guests received at their arrival the so called "Pistacchie", which were small round printed laminas, that were like a card that gave the right to get board and, if necessay, lodging. There were three types of Pistacchie: the black one made of brass lamina, reserved for poor people that gave them the right to have 1lb of black bread and about half liter of low quality wine; the golden one, called also "Ospizio", for the distinguished pilgrims, made of brass lamina, that would give each one of them 2 lbs of white bread and a jug of wine of Spianate, which was of a better quality; finally, not for the pilgrims but for the workers of the farm and for the pregnant women, there was the white Pistacchia, in iron lamina, that would allow them to get a bit of white bread and some wine of Spianate.
Source  :http://www.francigenaintoscana.org